The Federal Highway Administration (FHWA) selected California as a Pedestrian and Bicycle Safety Focus State in 2015 due to its high rate of pedestrian and bicyclist fatalities. In 2021, the FHWA updated their Focused Approach to Safety. California continues to be identified as a Focus State for Pedestrians and Bicyclists because of disproportionately high pedestrian and bicycle fatalities. The FHWA shifted their local stakeholder engagement to the regional level, with an emphasis on metropolitan planning organizations (MPOs). The Kern Council of Governments, Sacramento Area Council of Governments, San Diego Association of Governments and San Joaquin Council of Governments were identified as Pedestrian Focus Regions, while the Southern California Association of Governments was named as both a Pedestrian and Bicyclist Focus Region. The Focus Regions program in California is a joint project of UC Berkeley SafeTREC and California Walks that supports community efforts to build a culture of safe walking and biking through community programs and events.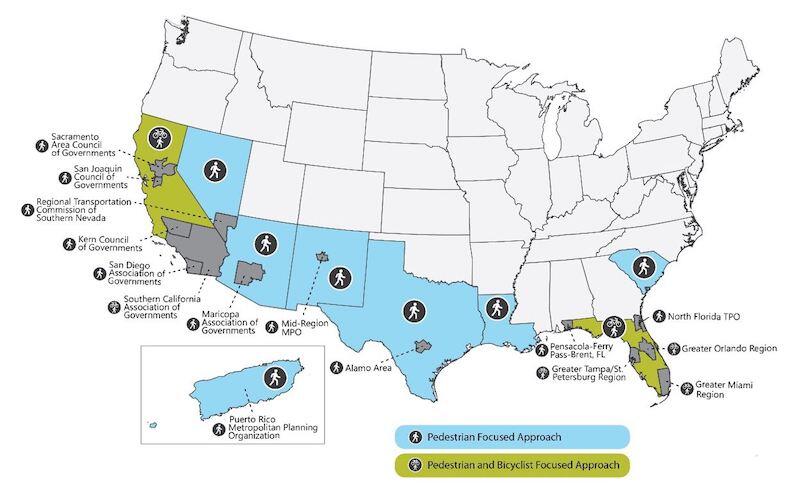 About the Focus Regi0ns Program
SafeTREC and California Walks support local advocacy, community, and agency partner efforts in each of the seven FHWA-designated Focus Cities to engage and educate residents on pedestrian and bicycle safety (Focus Cities in California are San Francisco, San Jose, Fresno, Bakersfield, Los Angeles, Santa Ana and San Diego) as well as in the newly designated Focus Regions/MPOs in California. We provide customized technical assistance, regular support for data collection and analysis, and educational/outreach efforts such as:
Listserv for information exchange between advocacy, community and agency partners from each California Focus City;

Webinars on the latest topics in pedestrian and bicycle safety, such as designing bike and pedestrian streetscapes that work for seniors and people with disabilities;

Trainings on topics such as community education and engagement, data systems such as the Transportation Injury Mapping System (TIMS), and tools to collect community experiences such as Street Story; and

Workshops on topics such as conducting community walk/bike assessments, and action planning for community pedestrian and bicycle safety.
Regional Active Transportation Technical Assistance
If you live in El Dorado, Imperial, Kern, Los Angeles, Orange, Placer, Riverside, Sacramento, San Bernardino, San Joaquin, Sutter, Ventura, Yolo, or Yuba counties, we are eager to collaborate with you through our Focus Regions program. We are seeking to provide technical assistance to three communities from the named counties. To inquire about support opportunities, please contact Garrett Fortin at fortinga@berkeley.edu.
Learn more about the Technical Assistance SafeTREC offers to Focus Regions in the 2023 Focus Regions TA Menu.
Events and Trainings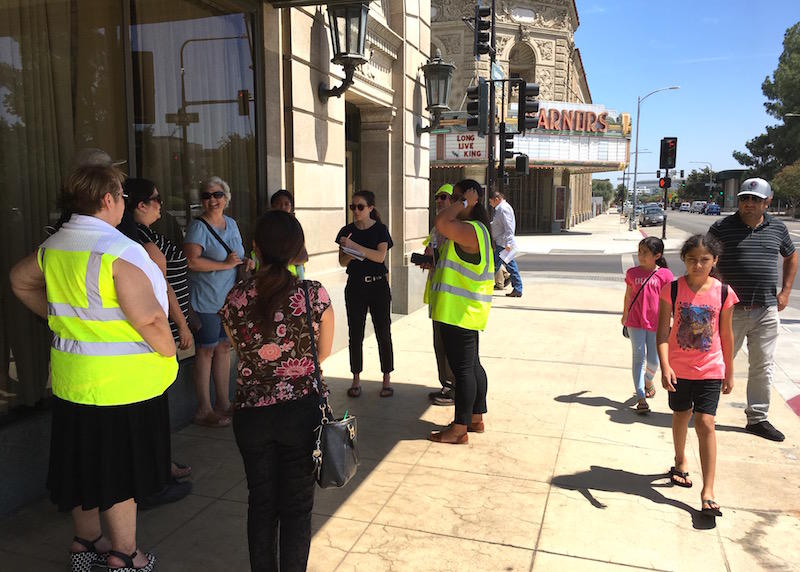 Focus Cities Workshop in Fresno, CA.
Upcoming and Recent Events
Tuesday, August 30, 2022 - Advocates for Change: Supporting Community Leaders in Pedestrian and Biycle Safety Programming. Join UC Berkeley SafeTREC, California Walks, Every Neighborhood Partnership, Urban Peace Institute, and Partnership LA to hear about how organizations are developing community leaders in pedestrian and bicyclist safety. Our panelists will share ways in which they are supporting local residents to be advocates for change by investing in their personal leadership. Learn about their organizational initiatives and the impact that these programs have had in their local communities. Watch the webinar.
Thursday, July 28, 2022 - Building Programs in Spanish: The Importance of Culturally Relevant Pedestrian & Bicyclist Safety Programming. Join UC Berkeley SafeTREC and California Walks as we welcome pedestrian and bicyclist safety champions from the primarily Spanish-speaking communities of Wilmington and Bakersfield. Gaby Segovia and Nancy Cid Gomez from Los Angeles Walks and Gema Perez from the Greenfield Walking Group will discuss the importance of language-accessible and culturally relevant programming and how such programs help build up the leadership of community members. Ana Lopez from SafeTREC will also share lessons learned and resources developed by our Comunidades Activas y Seguras program such as Lotería, a game to demonstrate the Safe System Approach in a culturally relevant way. This webinar will be conducted in Spanish, with simultaneous English interpretation. Watch the webinar: English / Spanish.
Thursday, June 30, 2022 - Applying the Safe System Approach to Pedestrian and Bicyclist Safety. Join UC Berkeley SafeTREC and California Walks in a discussion about the Safe System Approach to road safety and how we are using it in our community programs to consider pedestrian and bicycle safety in a more holistic way. Learn about what the Safe System Approach is, how we have adapted it for communities in both English and Spanish, and ways in which you can use it, too! Watch the webinar.
Explore our archive of links and recordings below to past events, trainings, and webinars offered through the Focus Regions Program.
2021
September 22, 2021 - Webinar on Safety on Our Streets: Traffic Safety in San Jose. In 2020, 49 community members were killed in traffic-related incidents in San José. Despite fewer cars on the road due to shelter-in-place orders, San José residents saw an increase in driver speeds and overall traffic deaths did not decrease. Now, halfway through 2021, the rise in traffic deaths has not slowed down. Join UC Berkeley SafeTREC, California Walks, the City of San José's Department of Transportation, and Los Angeles Walks to learn about traffic safety trends in San José over the past 5 years and how COVID-19 and Shelter-in-Place affected traffic safety. This presentation will also take a look at resource guides created by Los Angeles Walks and Walk San José for crash survivors and those who have lost a loved one to a traffic crash. Watch the webinar.
August 4, 2021 - Webinar on Engaging Communities During COVID: What we learned. Santa Ana Active Streets (SAAS) for the past year has adapted many of its in-person active transportation safety programs for the COVID-19 reality. Join UC Berkeley SafeTREC and California Walks for our latest Focus Cities webinar with SAAS staff and volunteers to learn how they took their programs online when needed, updated activities with COVID-19 public health guidelines, and how they are continuing to engage residents in diverse and meaningful ways, such as through the Lonely Hearts Ride, a self guided biking tour of downtown Santa Ana. Watch the webinar.
March 25, 2021 - Webinar on From Practice to Progress: Street Story in the Field. Joinpresenters from the Altadena Town Council, Bike Bakersfield, and WALKSacramento to learn how they use Street Story, a community engagement tool that allows residents to share where they've been in a crash or near miss, or where they feel safe or unsafe traveling. In this webinar, learn how local governments and community organizations have been using Street Story prior to and during the pandemic period to support their transportation safety advocacy, community engagement, and planning efforts. Watch the webinar.
2019
August 7, 2019 - Webinar on Street Story at Work: How Communities are Using the Tool. In this webinar, participants heard from UC Berkeley SafeTREC, California Walks, Bike Bakersfield and Humboldt County's Coalition for Responsible Transportation Priorities how community organizations are learning about local transportation safety issues from their community members via Street Story. The presenters also shared ideas about how you can use Street Story in community engagement activities. Watch the webinar.
April 30, 2019 - Webinar on Meeting Communities Where They Are: Innovative Engagement and Partnerships. This webinar focused oncommunity engagement strategies that aim to meet the community where they are at, in more culturally competent ways. Guest presenters from the City of Oakland, the City of Los Angeles and Cycles of Change shared their transformative community engagement efforts that seek to involve communities directly to address transportation safety, mobility and accessibility for all. Watch the webinar.
2018
July 11, 2018 - Webinar on #Marketing Vision Zero With Social Media. Social media is a resource that most people have access to and know how to operate. In the planning sphere, social media has become a cost-effective tool for informing the public of projects and events happening in their community and collecting input. In this webinar, participants learned about #marketing their projects through social media with Maya Rosas, Director of Policy and Jana Schwartz, Project Coordinator at Circulate San Diego to see how they are using this outreach method to promote their Vision Zero efforts. Watch the webinar.
May 30, 2018 - Walking & Biking Summit in Fresno, CA. This Summit helped participants learn how to build their capacity in organizing resident-led walking and biking groups and how to connect this work to informing traffic safety improvements in the Southeast Fresno community. It also featured a workshop on Safe Routes to School. 
May 23, 2018 - Walking Safety Assessment in Los Angeles, CA. Los Angeles Walks, the Youth Policy Institute and California Walks hosted a Walking Safety Assessment to learn how to make walking and biking safer around the Santa Monica Boulevard Community Charter School. Learn more.
May 3, 2018 - Webinar on Engaging Residents in Local Policies That Support Pedestrian & Bicycle Safety. This webinar focused on Cultiva La Salud's resident engagement efforts in Southeast Fresno's predominantly Latino community. Brandie Banks-Bey, Communications Manager with Cultiva La Salud highlighted strategic community engagement tactics that led to more equitable policies to support pedestrian and bike safety, and overall healthier communities. Watch the webinar.
February 28, 2018 - Pedestrian and Bicycle Safety Training for Los Angeles Housing + Community Investment Department (HCIDLA). In support of a California Office of Traffic Safety grant received by HCIDLA, Jill Cooper and Tracy McMillan, with guest presenter Destiny Thomas (LADOT), conducted a training on community pedestrian and bicycle safety principles for HCIDLA's non-profit community partners based at City of LA FamilySource Centers throughout the city.
January 17, 2018 - Webinar on Street Story: Addressing Demographic Disparities in Transportation Safety Data. In this webinar, SafeTREC research associate Kate Beck discussed the development of Street Story, an online transportation safety self-reporting platform designed to provide advocates and decision-makers with additional data to make and advocate for more informed transportation safety decisions and allocate resources more equitably. Watch the webinar. Learn more about Street Story.
Resources
San Jose Post Crash Resource Guide (2021)
This guide is meant to be a resource for survivors of a crash or those who have experienced the death of a loved one in a sudden traffic incident. It was created by WalkSanJose, a project of California Walks that launched in 2017 to locally uphold California Walks' vision to create safe, just, and inclusive streets and public spaces.
This guide has been made possible by the grant-funded California Focus Cities program, a joint project of UC Berkeley SafeTREC and California Walks that support increased safety in walking and biking. 
Safe Routes for Older Adults (2018)
With the increased focus on walking and bicycling comes opportunities to improve the safety of the transportation environment for all users. This guide, prepared by UC Berkeley SafeTREC, provides communities with background information on walking and bicycling safety for older adults and tools to make transportation in California communities age-friendly for all. 
The Safe Routes for Older Adults guide was prepared at UC Berkeley SafeTREC by:
Tracy McMillan, PhD, MPH, Senior Policy & Project Analyst
Ana Lopez, Policy & Project Analyst
Jill Cooper, MSW, Co-Director
Questions about the Focus Regions program? Please contact safetrec@berkeley.edu.
Funding for this program was provided by a grant from the California Office of Traffic Safety, through the National Highway Traffic Safety Administration.