Low-income groups, some racial/ethnic groups, people with disabilities, seniors and rural communities are at higher risk of being injured or killed while walking and biking. Information on the safety needs of these communities is limited. 
To help increase safety and to improve the street environment for road users, SafeTREC is developing Street Story, an online platform that allows residents to report transportation safety issues in their communities.
Our goal is to provide communities with a valuable community engagement tool to gather information that helps identify the factors that influence pedestrian and bicycle safety.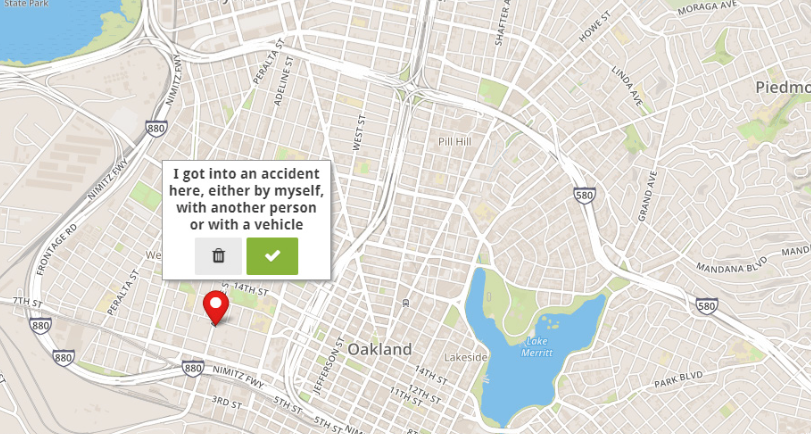 The platform will allow the public to enter various types of information including collisions they have been in, near-misses and perceptions of dangerous areas for walking and bicycling. The platform also allows people to report areas they feel safe walking and biking. This will provide community groups and agencies with data that better encompasses the needs of under-represented groups. 
Once reports have been made, the information will be publicly accessible, and community groups or agencies can use this information to complement existing community engagement processes.
News
Street Story is being piloted in Bakersfield and Kern County in partnership with Bike Bakersfield and Kern Medical Center! Do you live in the area? Visit the links below to test the platform and share your feedback about pedestrian and bicycle safety issues:
We Value Your Feedback!
Are you interested in testing Street Story? We are currently piloting a test version of the platform and would value user feedback. If you have the time, please spend about 10 minutes exploring the platform, and provide feedback via email to SafeTREC researcher Kate Beck at katembeck@berkeley.edu.
We are looking for feedback about:
User experience for those reporting: Did you find the platform easy to understand? How about from the standpoint of a user unfamiliar to transportation safety?
Impact of information collected: Would this information be valuable to organizations and agencies who are making transportation safety decisions and allocating resources?
Functional features: Were there any challenges in using the platform? What is working well?
The test version of the Street Story platform is located at: https://streetstory-test.berkeley.edu/
Contact
If you are interested in learning more about the Street Story project and opportunities for collaboration, please contact: Kate Beck at katembeck@berkeley.edu.
Street Story FAQ

Why Street Story?
Summaries of police-reported traffic collisions are a critical resource; however, additional data is needed to capture the complete story about traffic safety concerns, especially for pedestrians and bicyclists.
Street Story is a community engagement tool where individuals can anonymously report crashes, near-misses and general safety issues to help community groups and agencies in pedestrian and bicycle safety advocacy and planning.  
What will we do with the data collected?
The information collected on Street Story will be publicly accessible, and is designed to be used by community groups and agencies to complement existing data sources.
How can I get involved?
Street Story is currently being piloted and will be widely available for California in Fall 2018. If you are interested in testing Street Story before then, please email katembeck@berkeley.edu.
What are the benefits for participating in Street Story?
Community groups and agencies can use Street Story to complement community engagement processes around transportation safety issues at a variety of scales, from an intersection to an entire region. Street Story data can be used to complement police-reported data. Street Story can also be used as an evaluation tool.  
Research and Publications

The following funded research and published works provide context for the Street Story project:
UC Berkeley's Center for Technology, Society & Policy funded research conducted by SafeTREC researchers Aditya Medury, Kate Beck and Jesus Barajas on Race and Income Disparities in Crowdsourced Traffic Safety in 2017.
Crashes on and Near College Campuses: A Comparative Analysis of Pedestrian and Bicyclist Safety. Anastasia Loukaitou-Sideris, Aditya Medury, Camille Fink, Offer Grembek, Kevan Shafizadeh, Norman Wong, & Phyllis Orrick. Journal of the American Planning Association Vol. 80, Iss. 3, 2014.
Investigating the underreporting of pedestrian and bicycle safety crashes in and around university campuses-a crowdsourcing approach. Aditya Medury, Offer Grembek, Anastasia Loukaitou-Sideris, & Kevan Shafizadeh. Accident Analysis and Prevention (2017), http://dx.doi.org/10.1016/j.aap.2017.08.014
Funding for this program was provided by a grant from the California Office of Traffic Safety through the National Highway Traffic Safety Administration.