The Community Pedestrian and Bicycle Safety Training (CPBST) program is a joint project of UC Berkeley SafeTREC and California Walks (Cal Walks). Funding for this program is provided by a grant from the California Office of Traffic Safety (OTS) through the National Highway Traffic Safety Administration (NHTSA). The CPBST program works with local neighborhood residents and health, transportation and safety advocates to improve pedestrian and bicycle safety through engaging local stakeholders, providing information and data, supporting community empowerment, and strengthening collaboration with local officials and agency staff. Our team works with a local Planning Committee to customize the workshop to fit the unique needs of each community.
The program began in 2009 as the Community Pedestrian Safety Training (CPST) program, and was expanded in 2016 to incorporate strategies to improve bicycle safety and renamed the Community Pedestrian and Bicycle Safety Training (CPBST) program.   
Results
As of 2020, SafeTREC and Cal Walks have conducted 100 pedestrian and bicycle safety trainings throughout California. While our curriculum was developed for in-person workshops, it has been successfully adapted for virtual convenings as a result of the novel coronavirus pandemic.
Explore our interactive map of the CPBST Program to view and access summary reports where available of each workshop proceeding, including ideas identified during the process and recommendations for pedestrian/bicycle safety projects, policies, and programs. 

View a web accessible, text version of the CPBST Interactive Map.
For a follow-up survey and an evaluation of the effectiveness of the CPBST, please view:
About the CPBST
The CPBST works with local residents and safety advocates to develop a tailored, community-driven action plan to improve walking and biking safety in their communities and strengthen collaboration with local officials and agency staff. The CPBST includes training and skills building in pedestrian and bicycle safety, as well as community engagement, and creates opportunities for collaboration among community-based organizations, local officials, and residents. The goal is to help make communities safer and more pleasant for walking and biking. The training is designed to provide participants with: 1) knowledge on how to conduct walking/biking assessments; 2) walking and biking safety strategies using a safe systems framework; and 3) an opportunity to address and plan for pedestrian and bicycle safety projects and programs with their community.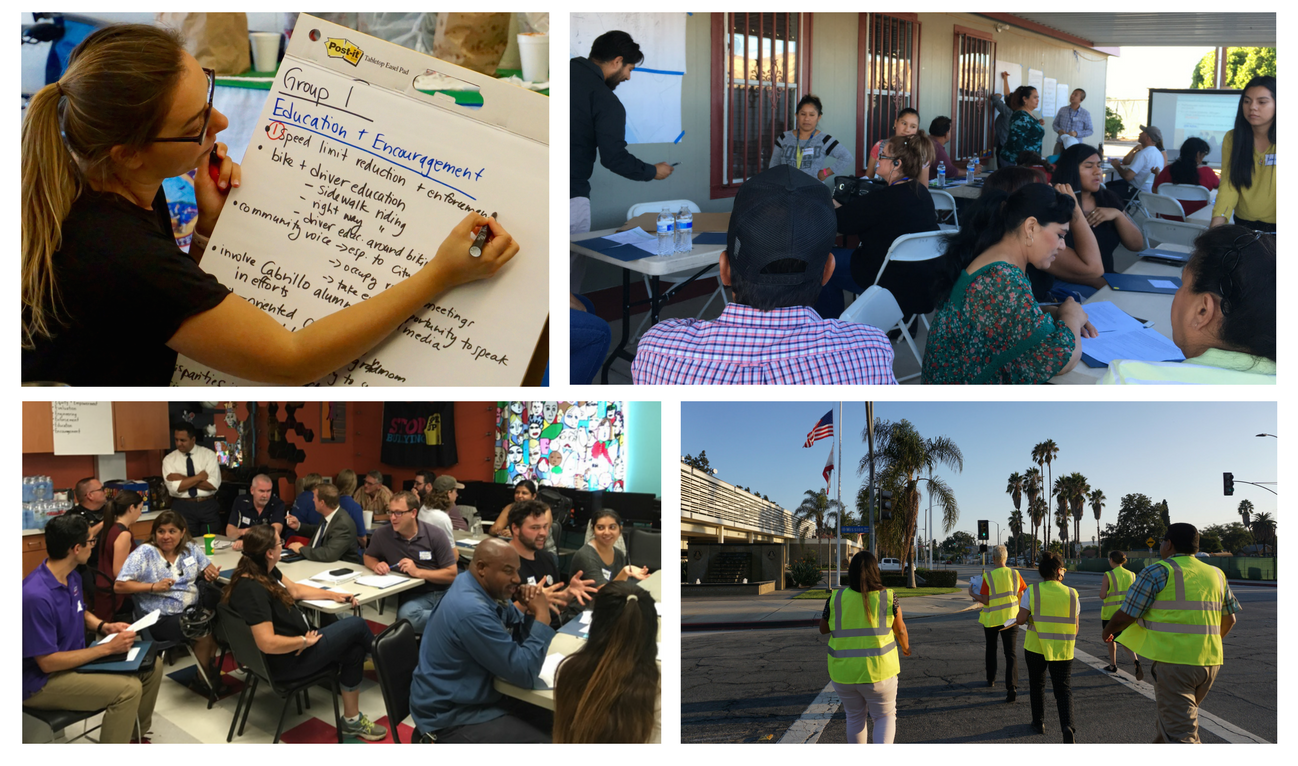 This training teaches basic pedestrian and bicycle safety best practices (e.g. high visibility crosswalks, crash reduction factors), community engagement skills (e.g. identifying community professionals empowered to solve problems), walkability/bikeability assessment of a selected pedestrian/bicyclist danger area, and mapping or other small group interactive prioritization of safety issues. In 2020, this curriculum was adapted for virtual convenings due to the coronavirus outbreak.        
The training uses SafeTREC analytic tools such as the Transportation Injury Mapping System (TIMS), Street Story qualitative data collection, and data analysis. At the training, participants will engage in:
Expert-led presentations
Interactive training sessions
Small group discussion
Walkability/bikeability Assessment
At the end of the training, participants will have a set of pedestrian and bicycle safety priorities, including a next steps action plan to promote safe walking and biking in the community. This training is also designed to help communities with the development and implementation of a Pedestrian/Bicycle Safety Action Plan.
Learn more: download the 2021 CPBST Fact Sheet: English / Spanish
Apply now for a CPBST in your community!
Applications for the 2021 CPBST Program are now being accepted on a rolling basis. To apply for a training in your community, please complete the Program Application (English/Spanish) and submit to Wendy Ortiz, Cal Walks Programs Director, at wendy@calwalks.org. For questions or help filling out the application, contact Wendy at (714) 742-2295. Para Español, por favor contacte a Wendy Ortiz at (714)742-2295 or email wendy@calwalks.org.
All trainings will be hosted remotely. As conditions change, we will assess the possibility of an in-person workshop.
Who is eligible to apply?
Community-based organizations, and coalitions;
Schools and school districts; and
City and county agencies, tribal governments.
If you have any questions about the CPBST Program, please contact Katherine Chen at kchen@berkeley.edu.

Funding for this program was provided by a grant from the California Office of Traffic Safety, through the National Highway Traffic Safety Administration.