Share stories about where you've been in a crash or near miss, or where you feel safe or unsafe traveling using our Street Story tool.
Street Story
Street Story is a community engagement tool that allows residents, community groups and agencies to collect information about transportation collisions, near-misses, general hazards and safe locations to travel. To promote access to the tool, SafeTREC conducts technical assistance with communities and organizations on using Street Story. Street Story is free to use and publicly accessible.
Street Story features a survey where people can record travel experiences. Once a record has been entered, the information is publicly accessible on the website with maps and tables that can be downloaded.
Community organizations and agencies can use this information as part of qualitative information gathering approaches for local needs assessments, transportation safety planning efforts, safety programs and project proposals. In order to help ensure access to the tool, we work directly with community organizations across California to incorporate the Street Story tool into their existing projects and programs. We provide in-person workshops, webinars, and one-on-one assistance.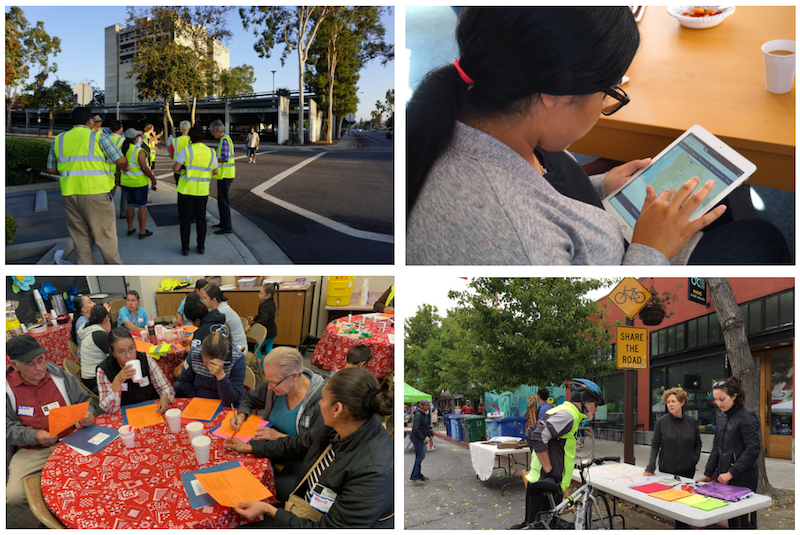 The program was created by a team of city planners, public health professionals, engineers, social welfare experts and computer scientists at UC Berkeley's Safe Transportation Research and Education Center (SafeTREC). As it is a relatively new tool, we are continually evaluating how it is used and exploring what changes may need to be made to strengthen it.
Street Story can be used in any city or county in California and is available for California residents age 13 and older. The online platform is available in English and Spanish. SafeTREC also offers a paper version of the tool, in English and Spanish, for in-person events. If you are interested in learning how your own community can use Street Story, please email us at streetstory@berkeley.edu
Visit Street Story: English: https://streetstory.berkeley.edu/. Spanish: https://streetstory.berkeley.edu/es/
Download the Street Story Fact Sheets to learn more: English / Spanish.
Street Story at Work
Street Story is being used to complement transportation safety efforts in a number of communities across California. Various groups have used Street Story in a few different ways over the years:
Street Story Technical Assistance, Guides and Resources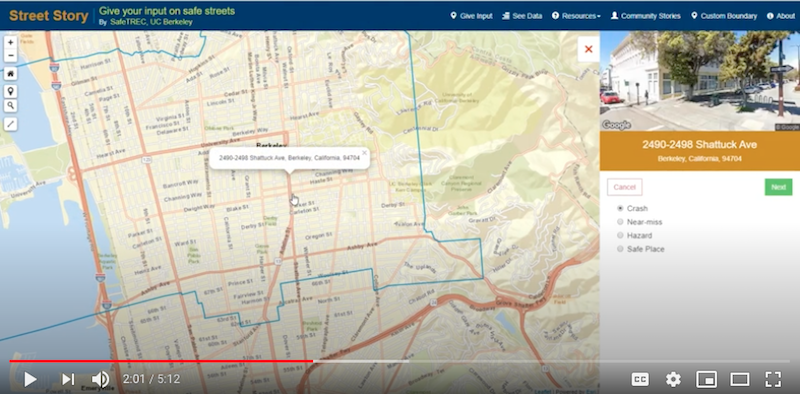 We offer in-person and online trainings to assist organizations in finding ways to use the Street Story tool that fit specific community needs. If you are interested in learning more about Street Story and opportunities for collaboration, please email streetstory@berkeley.edu.
Upcoming events and recordings of past Street Story Webinars
Street Story FAQ
What is Street Story?
Street Story is a community engagement tool where individuals can anonymously report collisions, near-misses and places they feel safe or unsafe. Organizations can use the tool as qualitative data for transportation safety advocacy, outreach, education, planning and evaluation.
Street Story is not a substitute for reporting collisions to the police.

Why Street Story?
Stories can provide rich and important qualitative information about transportation safety issues that we may not be able to learn about from traditional data sources.
Street Story allows individuals to record narratives, geographical and categorical information about their transportation experiences, and then stores this information in publicly accessible maps and tables. Entries can be easily recorded and shared with community partners.

How was Street Story created?
SafeTREC researchers recognized that community members have a wealth of information about transportation safety. Street Story is designed to help residents and community organizations record and understand this kind of information. Street Story was created with significant input from members of the public, community organizations, city and county agencies, and industry experts.


Who can use Street Story?
The online platform is available for California residents age 13 and older.

How will the information be used?
The information collected on Street Story is publicly accessible, and is designed to be used as qualitative input for transportation safety needs assessments, program development, grant writing, planning efforts, evaluations, etc. SafeTREC may use the data for transportation safety research.
Research and Publications 
The following publications and presentations describe research conducted by SafeTREC and partners on crowdsourced data:
An Analysis of Perceptions of Civic Engagement Technologies in Transportation Planning. Lectern Session 1263. January 13, 2020. Transportation Research Board (TRB) Annual Meeting. Kate Beck and Lisa Peterson, University of California, Berkeley.  Access the abstract and the poster.

UC Berkeley's Center for Technology, Society & Policy funded research conducted by SafeTREC researchers Aditya Medury, Kate Beck and Jesus Barajas on Race and Income Disparities in Crowdsourced Traffic Safety in 2017.
Crashes on and Near College Campuses: A Comparative Analysis of Pedestrian and Bicyclist Safety. Anastasia Loukaitou-Sideris, Aditya Medury, Camille Fink, Offer Grembek, Kevan Shafizadeh, Norman Wong, & Phyllis Orrick. Journal of the American Planning Association Vol. 80, Iss. 3, 2014.
Investigating the underreporting of pedestrian and bicycle safety crashes in and around university campuses-a crowdsourcing approach. Aditya Medury, Offer Grembek, Anastasia Loukaitou-Sideris, & Kevan Shafizadeh. Accident Analysis and Prevention (2017), http://dx.doi.org/10.1016/j.aap.2017.08.014.
Funding for this program was provided by a grant from the California Office of Traffic Safety, through the National Highway Traffic Safety Administration.