Today we're excited to share a guest blog post by Katherine Chen, Senior Policy & Program Analyst at SafeTREC and the lead for the Community Pedestrian and Bicycle Safety Training (CPBST) program. The CPBST program works with local neighborhood residents and health, transportation and safety advocates to improve pedestrian and bicycle safety through engaging local stakeholders, providing information and data, supporting community empowerment, and strengthening collaboration with local officials and agency staff. Our team works with a local Planning Committee to customize the workshop to fit the unique needs of each community.
---
Over eleven months ago, California was the first state in the nation to issue a stay at home order and, with that, we prioritized the public health of our staff and partners by quickly adapting the Community Pedestrian and Bicycle Safety Training Program (CPBST) for the virtual space. We found that the pandemic encouraged communities across the state to reimagine their streets for walking, biking, and playing that emphasize community connection while also reducing congestion and speeding. Furthermore, it gave us an unprecedented opportunity to focus on safety and people-centric urban planning. As a result, we saw cities across the state, like Oakland, Fresno, and Pasadena, respond to the pandemic by developing "slow streets'' that encourage more walking and biking.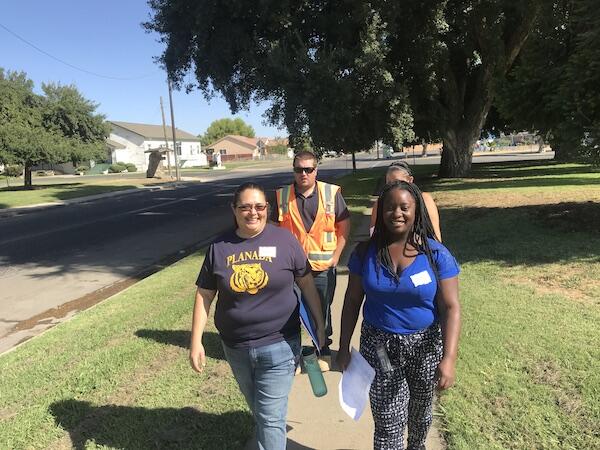 Participants on a walk assessment at a CPBST in Planada, CA (Photo: E. Rivera)
California communities are resilient
This past year, we worked with 11 communities from the Bay Area and the Central Valley to the High Desert and Southern California to improve multi-modal transportation safety. The focus of these workshops ranged from improving safe routes to school, engaging neighbors in pedestrian and bicycle safety advocacy, and improving active transportation conditions and connectivity in the neighborhood, to gathering feedback to inform the development of local safety plans. We worked closely with community partners to host two workshops in-person and nine workshops online; three workshops were even conducted in Spanish! At seven other workshops, we offered interpretation, including Spanish, Khmer, and Hmong. 
A follow-up survey with community partners found that 73.5% of respondents had planned a community outreach or education event after their CPBST workshop. About one-third of respondents applied for funding to address recommendations that emerged from their workshop. And, over half of respondents are making plans to improve street design and conditions based on CPBST recommendations.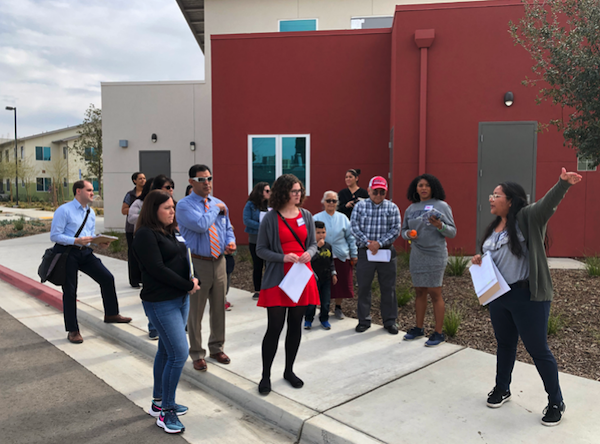 Participants at a walk assessment in a CPBST at Fowler, CA (Photo: S. Rico-Vazquez)
So, what does that mean?
UC Berkeley SafeTREC and California Walks are looking for 12 communities to partner with us to discuss, plan, and implement active transportation safety improvements in 2021. We are committed to working with communities to identify how a CPBST workshop fits into their community's current needs and goals, especially as pedestrian and bicycle safety needs are changing amidst the coronavirus outbreak. To learn more about our CPBST program, please visit our program webpage or download our 2021 CPBST Fact Sheet (English/Spanish), and access summary reports from previous workshops. 
Eligible applicants include: 
Community-based organizations and coalitions;

Schools and school districts; and

City and county agencies, tribal governments.
Apply for a CPBST in your community!
We're currently accepting applications (English/Spanish) for the CPBST program for 2021! And, while we would love to meet you in person and visit your community, our activities are currently restricted to online to protect the public health of your communities and our staff. If you need assistance completing the application, please contact Wendy Ortiz at wendy@calwalks.org or 714-742-2295. 
Please submit your application to Wendy Ortiz at wendy@calwalks.org. Sites will be chosen on a rolling basis until all slots are filled. 
---
Funding for this program was provided by a grant from the California Office of Traffic Safety, through the National Highway Traffic Safety Administration.