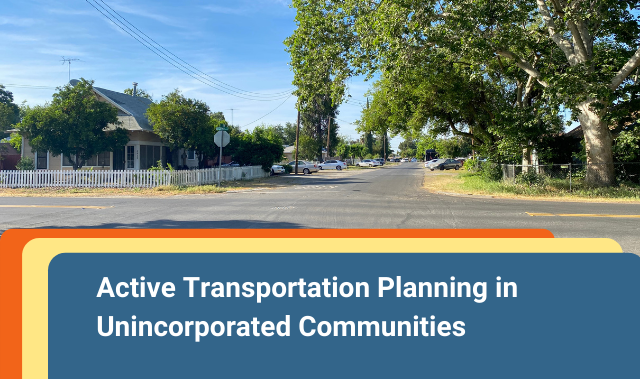 Join UC Berkeley Safe Transportation Research and Education Center (SafeTREC) and California Walks for the next session on Tuesday, April 12th in the new 3-part training series, the "Strengthening Partnerships: A Peer Exchange Series for former CPBST sites"! This biweekly virtual series is designed to support communities as they work to implement the recommendations developed during their Community and Pedestrian and Bicycle Safety (CPBST) workshops.
Active Transportation Planning in Unincorporated Communities
Tuesday, April 12 | 2pm - 3:30pm PT | Register
Unincorporated areas face unique challenges and complexities in active transportation planning. The discussion will focus on sources of funding for planning and improvements - counties, regional planning organizations, and state agencies - and strategies on working with each of these sources. Practitioners and community members from unincorporated areas will share their experiences and solutions. Join SafeTREC, Cal Walks and communities across California to discuss active transportation improvement efforts in unincorporated areas.
If you require an accommodation for effective communication (ASL interpreting/CART captioning, alternative media formats, etc.) to fully participate in this event, please contact Lisa Peterson at lisapeterson@berkeley.edu with as much advance notice as possible and at least 7-10 days in advance of the event.
If you have any questions, please email Katherine Chen at kchen@berkeley.edu. 
---
About the CPBST
The Community Pedestrian and Bicycle Safety Training Program (CPBST) is a joint project of UC Berkeley SafeTREC and California Walks. The CPBST program works with local residents and health, transportation and safety advocates to understand a community's walking and biking safety concerns and advance their pedestrian and bicycle safety goals. We work to strengthen collaboration between all safety partners, discuss transportation safety information and local crash data, and collectively develop a community-driven safety action plan.  Our team works with a local Planning Committee to customize the workshop to fit the unique needs of each community. Learn more here.
The CPBST peer exchanges are supported by funding from the California Office of Traffic Safety, through the National Highway Traffic Safety Administration.