Creating safer streets for walking & biking: apply for a CPBST in your community!
UC Berkeley SafeTREC and California Walks are excited to announce applications are now being accepted for the 2022 Community Pedestrian and Bicycle Safety Training (CPBST) Program!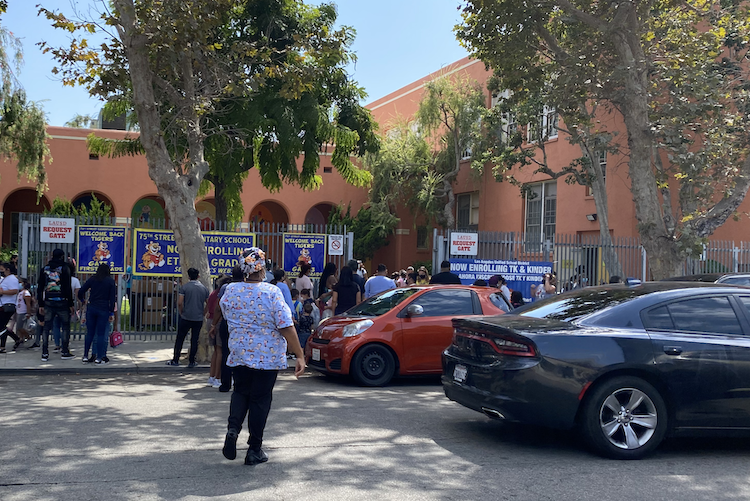 Students, parents and school staff in front of 75th Street Elementary School in South Los Angeles (Photo credit: Marina Ramirez)
This year, the CPBST will partner with communities throughout California to discuss, plan, and implement active transportation safety improvements. We are committed to working with each community to identify how a CPBST workshop fits into their current needs and goals, especially as pedestrian and bicycle safety needs are changing during the COVID pandemic. 


Interested in bringing the CPBST to your community? 
We are currently seeking seven new communities to partner with us to make their communities safer for walking and biking. Applications are available now: English / Spanish. For early consideration, please apply by January 21, 2022. Applications will be open until all slots are filled.


About the CPBST
The CPBST works with local residents, schools, agencies, and other safety partners to build synergy and develop a tailored, community-driven action plan to improve walking and biking safety and strengthen collaboration between all. During the workshop, we will review local crash data and the community's
traffic safety experiences, educate participants on pedestrian and bicycle safety best practices, guide participants on a walking and biking safety assessment, and culminate in identifying actionable next steps. The CPBST is committed to equitable community outreach and engagement in active transportation planning. We prioritize working in communities that are at higher risk for road traffic injuries and addressing the safety needs of people who are underserved by traditional transportation planning and resources.   
The CPBST team adapted the Federal Highway Administration (FHWA) Safe System elements and principles to make it more impactful for grassroots community engagement. Specifically, we emphasize the role of community-based expertise and strengthen collaboration between transportation professionals and communities to create lasting safety and mobility improvements. Within the Safe System framework, the team will: (1) review pedestrian and bicycle crash data and safety strategies; (2) facilitate a walking and biking assessment; (3) strategize with participants to define specific community pedestrian and bicycle safety goals and actionable next steps; and (4) empower participants to strengthen collaborations to implement specific walking and biking safety recommendations. 
The CPBST strives for equitable engagement and accessibility. In 2020, the curriculum was adapted for virtual convenings due to the COVID-19 pandemic. Moving forward, CPBST workshops will be offered in-person, online, or hybrid to meet your community's needs, pursuant to public health guidance. 
Learn more: download the 2022 CPBST Fact Sheet: English / Spanish
---
Funding for this program was provided by a grant from the California Office of Traffic Safety, through the National Highway Traffic Safety Administration.