Join us for the first Focus Cities webinar in 2021!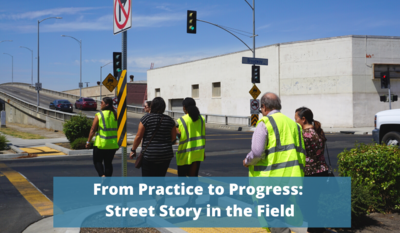 DATE: Thursday, March 25, 2021
TIME: 10am - 11am PT
REGISTRATION: http://bit.ly/FocusCitiesWebinar032521 
Join UC Berkeley SafeTREC and California Walks for our first Focus Cities webinar of 2021! We will be talking with presenters from the Altadena Town Council, Bike Bakersfield, and WALKSacramento about how they use Street Story, a community engagement tool that allows residents to share where they've been in a crash or near miss, or where they feel safe or unsafe traveling. In this webinar, learn how local governments and community organizations have been using Street Story prior to and during the pandemic period to support their transportation safety advocacy, community engagement, and planning efforts. Register now!

Presenters:
Asha Chandy, Programs Manager, Bike Bakersfield


Dorothy Wong, Councilmember, Altadena Town Council


Molly Wagner, Project Manager, WalkSacramento
If you require accessibility accommodations, please contact our Access Coordinator Lisa Peterson at 
lisapeterson@berkeley.edu
 with as much advance notice as possible.
NOTE: All participants and hosts are now required to sign into a Zoom account prior to joining meetings hosted by UC Berkeley. New to Zoom? Sign up for a free Zoom account at:
https://zoom.us/freesignup/

Hosted by UC Berkeley SafeTREC & California Walks, as part of the Focus Cities program.   
About the Focus Cities Program
The Focus Cities program is a joint project of UC Berkeley SafeTREC and California Walks. The FHWA has designated Focus Cities in California as areas with disproportionately high pedestrian and bicycle injuries and deaths. The goal of the project is to provide support to professional and community stakeholders in these cities in order to reduce pedestrian/bicycle injury crashes. The current California Focus Cities are San Francisco, San Jose, Fresno, Bakersfield, Los Angeles, Santa Ana, and San Diego. Our team supports local advocacy as well as community and agency partner efforts to engage and educate residents on pedestrian and bicycle safety in their city. We also provide customized technical assistance, regular support for data collection and analysis, and educational/outreach efforts. Learn more here.
---
Funding for this program was provided by a grant from the California Office of Traffic Safety, through the National Highway Traffic Safety Administration