UC Berkeley SafeTREC is excited to be a part of the Center for Pedestrian and Bicyclist Safety (CPBS), a Tier-1 University Transportation Center (UTC) supported by the United States Department of Transportation (USDOT) and led by the University of New Mexico (UNM).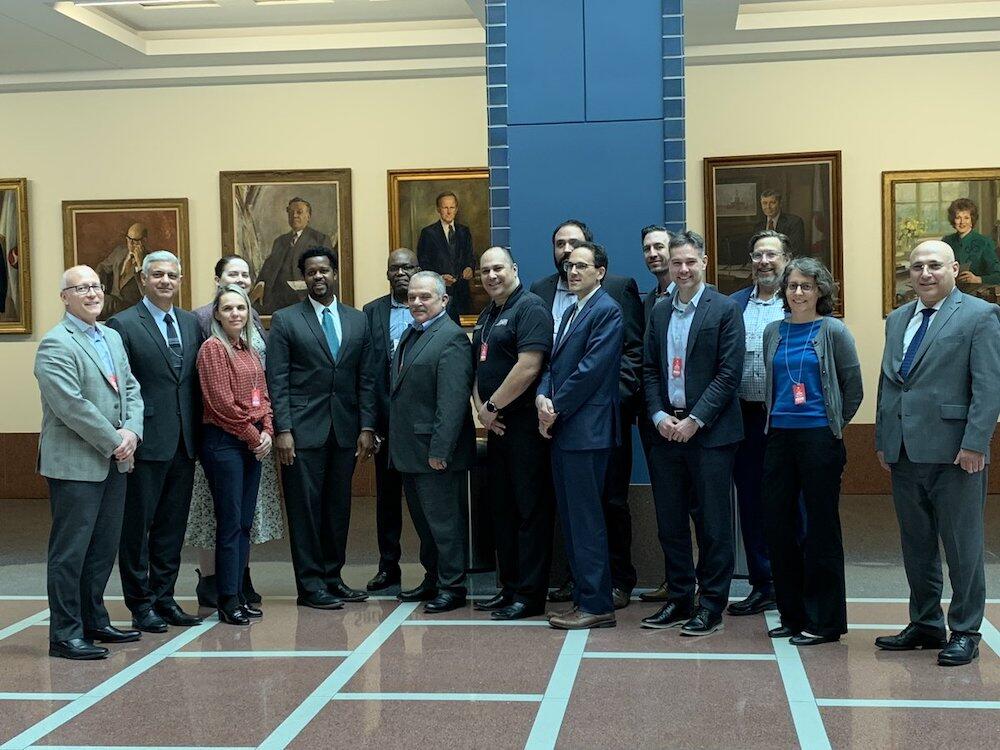 US DOT welcomes members from new UTC's at the University of New Mexico, City College of New York, and University of Texas Rio Grande Valley (Photo: US DOT)

CPBS is one of the twenty Tier One UTCs announced in March 2023, and will receive $2 million a year for the next five years to advance research on pedestrian and bicyclist safety. CPBS's goal is to eliminate pedestrian and bicyclist fatalities and serious injuries. 
The UC Berkeley team, led by SafeTREC Acting Co-Director and Safety Research Lead Julia Griswold, is one of five partnering institutions, along with the University of New Mexico, San Diego State University, University of Tennessee, Knoxville, and University of Wisconsin-Milwaukee.
CPBS Focus Areas
Research
Education
Technology Transfer
Workforce Development
Current CPBS Research at SafeTREC

A Context-Sensitive Street Classification Framework for Speed Limit Setting
Principal Investigators: Julia Griswold, University of California, Berkeley; Robert J. Schneider, University of Wisconsin-Milwaukee
Historically, speed limit setting (SLS) procedures in many states have relied on driver-behavior-based approaches such as the 85th percentile speed. Researchers, however, have identified several shortcomings, including that drivers underestimate their speeds, issues with speed creep, and the lack of consideration for vulnerable road users. States can move towards a context-sensitive approach to SLS by developing a street classification framework that includes context. New Zealand provides a leading example with its SLS procedure that uses a street category framework based on the Movement and Place principle. We will develop a US street category framework for SLS using objective, publicly available datasets that capture functional classification (movement) and variables associated with vulnerable road user activity (place), such as land use mix, population density, job density, urban/rural designation, and transit access. We will perform a pilot study of 5 geographically diverse states to categorize the streets on their road networks based on the Movement and Place principle. The research will include a best practice literature review, GIS data preparation and linking, application of classification methods, validation of classification, and reporting. Learn more about this research project.

Creating a Data Resource of California Police Stops for Use in Traffic Safety Applications
Principal Investigator: Julia Griswold, University of California, Berkeley
Traffic stops are one the most common ways in which the American public interacts with police. Although one of the leading reasons given for police traffic stops is a violation of the vehicle code, there is limited and mixed research on the impact of traditional police traffic enforcement on traffic safety outcomes. At present, few large data resources with an appropriate level of detail exist to facilitate investigations of this type. The 2015 Racial and Identity Profiling Act (RIPA) requires all law enforcement agencies in California to collect and submit vehicle (including bicycle) and pedestrian stop data to the State Department of Justice annually, starting no later than 2022. This project will use 2018-2022 confidential RIPA stop data to categorize all police traffic stops using known risk factors for fatal and severe collisions and to create new variables relevant to traffic safety, yielding a standardized statewide data set useful for examining and controlling for police traffic stops as they relate to traffic safety outcomes. Further, we will both establish clear guidance for how to process RIPA data efficiently for future data releases and will also geospatially join the processed RIPA data files with traditional transportation and land use data sources using stop location so that this data resource can be made available to others for future research. Learn more about this research project.

Understanding Pedestrian and Bicyclist Safety Trends in the Post-Pandemic Era
Principal Investigators: SangHyouk Oum, Julia Griswold, Iman Mahdinia, University of California, Berkeley
This project aims to analyze trends in pedestrian and bicyclist crashes and deaths in the post-pandemic era and investigate the underlying factors that contribute to these trends. The study will examine the changes in crash rates during different phases of the pandemic, considering variations in vehicle-miles traveled and commuting patterns. Factors such as infrastructure, road usage patterns, and transportation mode preferences will be studied to understand their influence on pedestrian and bicyclist safety. Additionally, the project will integrate census tract-level transportation disadvantage indicators with crash data to explore the relationship between disadvantaged communities and crash trends, addressing equity concerns. The insights gained from this research will inform evidence-based interventions and strategies to enhance pedestrian and bicyclist safety. By identifying the key factors contributing to the observed trends, policymakers and transportation agencies can develop targeted measures to mitigate risks and improve safety for pedestrians and bicyclists in the post-pandemic era. Learn more about this research project.

Learn more about the CPBS and current research, education, technology transfer, and workforce development activities at the CPBS website.