Register now for one of our upcoming Community Pedestrian and Bicycle Safety Training (CPBST) workshops! These workshops are presented throughout the state of California by UC Berkeley SafeTREC in partnership with California Walks. The CPBST program trains neighborhood residents and health, transportation and safety advocates on how to improve pedestrian and bicycle safety to make California communities safer and more pleasant to walk and bike.
Join us in the following communities to identify priorities to make walking and biking safer for everyone - including seniors, students, parents, and people with disabilities. Don't see a workshop near you? Keep updated on upcoming CPBST workshops in 2019 by visiting our program page or contact Katherine Chen at kchen@berkeley.edu for more information.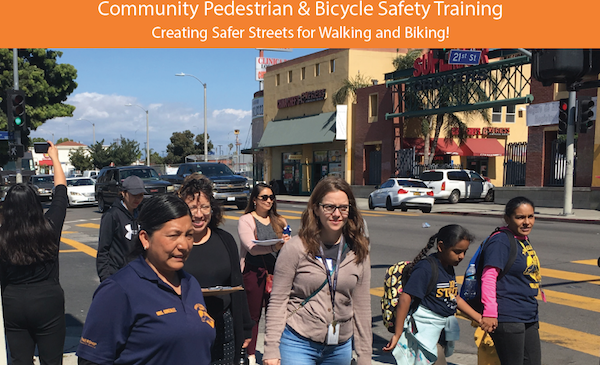 Site visit, Boyle Heights CPBST
Upcoming Trainings
Community/County

Date/Time/Location

Registration Link/Flyer

Watts
Los Angeles County

Monday, April 29, 2019; 9:30am-1:00pm
Joyner Elementary School, Professional Development Room
1963 E. 103rd St., Los Angeles, CA 90002

http://bit.ly/WalkBikeWatts  
Call: (818) 509-4112

South Los Angeles
Los Angeles County

Thursday, May 2, 2019; 4:00pm-7:30pm
Twentieth Street Elementary School Auditorium
1353 E. 20th St., Los Angeles, CA 90011

http://bit.ly/WalkBikeSouthLA 
Call: (714) 742-2295

Boyle Heights
Los Angeles County
Friday, May 17, 2019: 10:30am-2:00pm
Hollenbeck Middle School Auditorium
2510 E. 6th St., Los Angeles, CA 90023

http://bit.ly/BoyleHeightsWalkBike 
Call: (818) 509-4112
Funding for the CPBST is provided by a grant from the California Office of Traffic Safety (OTS) through the National Highway Traffic Safety Administration (NHTSA).