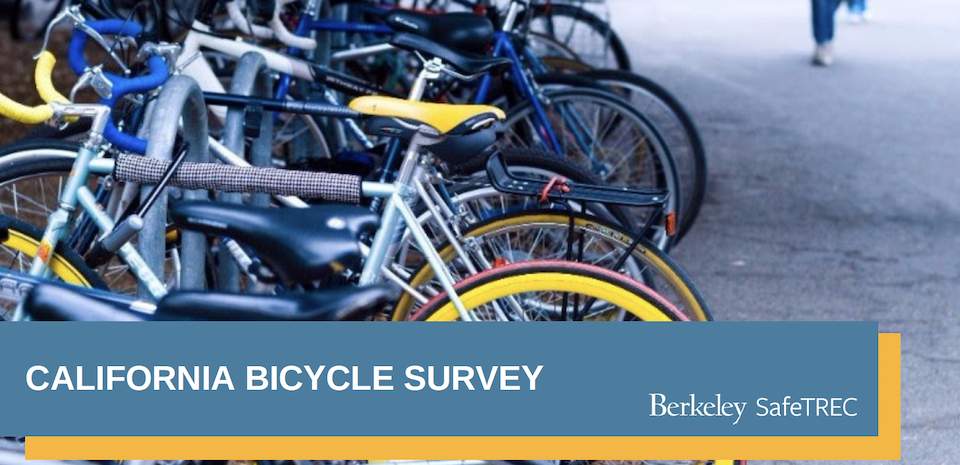 Win a $150 gift card!
You are invited to participate in a UC Berkeley study about the factors that make roads more or less bicycle friendly. The survey involves answering some questions about your cycling experience and then viewing and responding to short videos of bicycling on road segments. The survey takes 15-20 minutes to complete. The closing date for the survey is Friday, April 14, 2023. 
Those who complete the online survey at the link below may enter a drawing to receive one of six gift cards. One $150 card, two $75 cards, and three $50 cards are available. Please encourage your peers and colleagues to complete this survey as well. Download our flyer: English | Spanish.


Click here to take the survey in English.

Additionally, we are looking for 50 participants who will come to the UC Berkeley Campus to ride a virtual reality bicycle simulator. Participants will receive a $100 gift card. To register, participants must fill out the online survey first and sign up for the in-person experiment at the end.
Gift cards are available from the following stores: Amazon, Target, Grocery Outlet, or Trader Joe's.
Questions?
This study is conducted by Julia Griswold at the Safe Transportation Research and Education Center (SafeTREC) at the University of California, Berkeley. If you have any questions, please email juliagris@berkeley.edu.
---
Encuesta Sobre El Uso De La Bicicleta En California - Gane una tarjeta de regalo de $150!
Está invitado a participar en un estudio de la Universidad de California, Berkeley sobre los factores que hacen que las calles sean seguras y cómodas para andar en bicicleta. La encuesta consiste en contestar preguntas acerca de sus hábitos del uso de la bici y después mirar unos videos y contestar preguntas sobre ellos. La encuesta toma 15-20 minutos para completar y se cerrará el día viernes, 14 de abril de 2023.
Al término de la encuesta podrá participar en un sorteo aleatorio donde se regalarán seis tarjetas de regalo: uno de $150, dos de $75, y tres de $50. Lo invitamos a que comparta la encuesta con sus conocidos. Descargue nuestro folleto:  Español| Inglés.


Haga click aquí para contestar la encuesta en español.

Adicionalmente, estamos buscando a 50 personas que quieran venir al campus de UC Berkeley para un experimento en persona que involucra andar en un simulador de bici virtual. Los que participen recibirán una tarjeta de regalo de $100. Si está interesado, primero deberá llenar la encuesta y cuando termine podrá registrarse para el experimento en persona.
Para las tarjetas de regalo podrá elegir una tarjeta de cualquiera de las siguientes tiendas participantes: Amazon, Target, Grocery Outlet, o Trader Joe's.
¿Preguntas?
Esta encuesta está siendo dirigida por Julia Griwold de SafeTREC en la Universidad de California, Berkeley. Cualquier duda o pregunta, favor de mandar un correo a juliagris@berkeley.edu.