Community Engagement: Pivoting Active Transportation Safety Planning During the COVID-19 Pandemic
The Transportation Research Board (TRB) held the virtual event, "Conference on Advancing Transportation Equity: Bridging the Divide between People, Research, and Practice" on September 9, 10, 13, and 14, 2021. This year's conference featured presentations on all areas of transportation practice and research, highlighting those working on the front lines of transportation equity and justice within community-based and non-profit organizations. 
SafeTREC Senior Policy & Program Analyst Katherine Chen presented in the Poster Session: Equitable Engagement on Friday, September 10, 2021. Her presentation, "Pivoting active transportation community engagement planning during the COVID-19 pandemic" discussed SafeTREC's Community Pedestrian and Bicycle Safety Training (CPBST) Program and how in Spring 2020, the program's transportation safety community engagement work shifted to remote programming, resulting in a number of lessons learned about equitable community outreach and engagement in active transportation planning.
"With the shift to virtual workshops, we had to think about how our program could best serve the needs of the community we work with and adapt our work so we weren't creating any additional challenges for them." shared Katherine Chen. "Many of the communities we work with have limited time and resources to take on more, especially with the added burden of the pandemic. We couldn't ask residents to prioritize pedestrian and bicycle safety when they were struggling to secure their basic needs. We had to be creative and flexible in our community engagement and to partner even more closely with our local community-based organizations."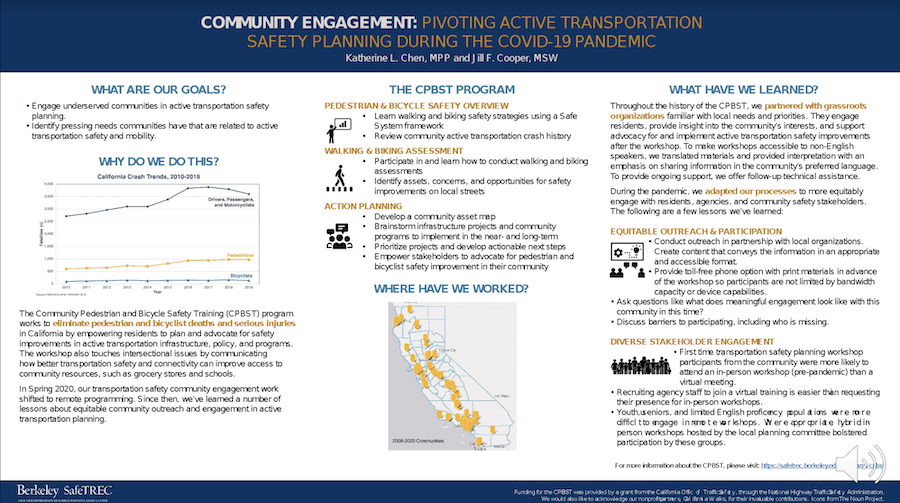 Poster presented at 2021 TRB Conference on Advancing Transportation Equity (Photo credit: Katherine Chen)
What have we learned?
In her presentation, Chen shared a few of the key lessons learned from the CPBST team's efforts to adapt their processes to more equitably engage with residents, agencies, and community safety stakeholders.
Equitable Outreach & Participation
Conduct outreach in partnership with local organizations
Create content that conveys the information in an appropriate and accessible format.
Provide toll-free phone option with print materials in advance of the workshop so participants are not limited by bandwidth capacity or device capabilities.
Ask questions like "what does equitable engagement look like with this community in this time?"
Discuss barriers to participating, including who is missing.
Diverse Stakeholder Engagement
First time transportation safety planning workshop participants from the community were more likely to attend an in-person workshop (pre-pandemic) than a virtual meeting.
Recruiting agency staff to join a virtual training is easier than requesting their presence for in-person workshop.
Youth, seniors, and limited English proficiency populatios were more difficult to engage in remote workshops. Where appropriate, hybrid in-person workshops hosted by the local planning committee bolstered participation by these groups.
Access the full poster here. Listen to a recording of the presentation here.