Register now for one of our upcoming Community Pedestrian and Bicycle Safety Training (CPBST) workshops in September! These workshops are presented throughout the state of California by UC Berkeley SafeTREC in partnership with California Walks. The CPBST program trains neighborhood residents and health, transportation and safety advocates on how to improve pedestrian and bicycle safety to make California communities safer and more pleasant to walk and bike.
Join us in the following communities to identify priorities to make walking and biking safer for seniors, students, parents, and people with disabilities. Don't see a workshop near you? Please contact Katherine Chen at kchen@berkeley.edu to add your name to a shortlist for bringing a Community Pedestrian and Bicycle Training to your community in 2020.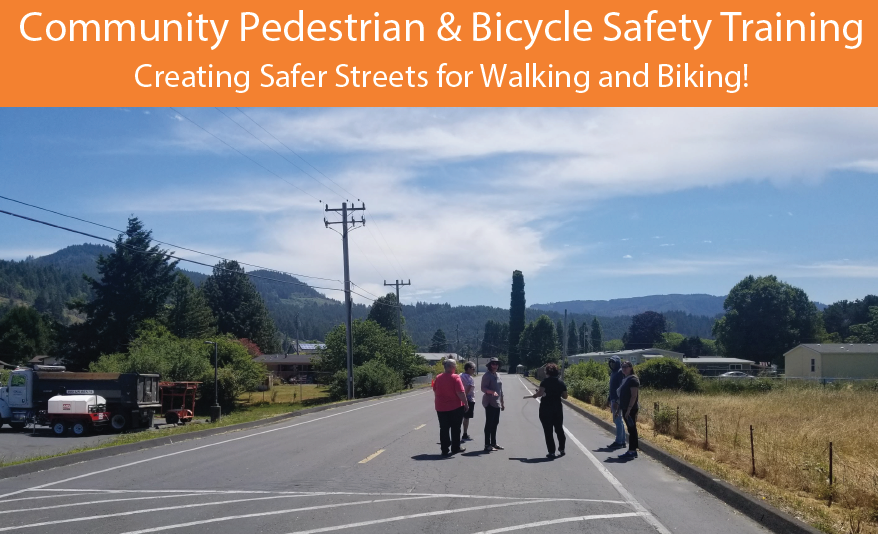 Upcoming Trainings
Community/County
Date/Time/Location
Registration Link/Flyer
Turlock
Stanislaus County

Wednesday, September 4, 2019: 12:30pm-4pm
Wakefield Elementary School, Room 12
400 South Avenue, Turlock, CA 95380

http://bit.ly/WalkBikeTurlock
Or call to register: (714)742-2295

Unincorporated Bakersfield
Kern County

Friday, September 6, 2019: 8:30am-11:30am
Mt. Vernon Elementary School, Parent Resource Center
2161 Potomac Avenue, Bakersfield, CA 93307

http://bit.ly/WalkBikeMtVernonES
Or call to register: (714) 742-2295

Azusa
Los Angeles County

Saturday, September 14, 2019: 9:30am-1:00pm
Azusa Light and Water Department
729 N. Asuza Avenue, Azusa, CA 91702

http://bit.ly/AzusaCPBST2019
Or call to register: (714) 742-0741

Blue Lake Rancheria
Humboldt County

Tuesday, September 17, 2019: 3:00pm - 6:30pm
Blue Lake Rancheria Tribal Government Office
428 Chartin Road, Blue Lake, CA 95525

http://bit.lyBLRWalkBike
Call: (714) 742-0741

Santa Monica - Pico Neighborhood
Los Angeles County

Sunday, September 22, 2019: 12pm-3:30pm
Virginia Avenue Park, Teen Center
2200 Virginia Avenue, Santa Monica, CA 90404

http://bit.ly/SantaMonicaCPBST
Or call to register: (714) 742-0741

Lancaster
Los Angeles County

Thursday, September 26, 2019: 4pm-7pm
American Heroes Park, Community Building
642 West Jackman Street, Lancaster, CA 94534

http://bit.ly/LancasterCPBST2019
Or call to register: (714) 742-0741
Funding for the CPBST is provided by a grant from the California Office of Traffic Safety (OTS) through the National Highway Traffic Safety Administration (NHTSA).