Register now for our Community Pedestrian and Bicycle Safety Training (CPBST) workshop coming up in the Pico-Aliso, Boyle Heights community to identify priorities to make walking and biking safer for everyone - including seniors, students, parents, and people with disabilities. These workshops train neighborhood residents and health, transportation and safety advocates on how to improve pedestrian and bicycle safety to make California communities safer and more pleasant to walk and bike. Refreshments, childcare, and interpretation in Spanish will also be provided.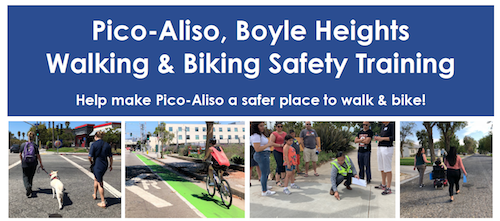 Training Information
DATE/TIME: Wednesday, March 4th;8:30am - 12:00pm
LOCATION: Self-Help Graphics, 1300 E. 1st Street, Los Angeles, CA. 90033
REGISTER BY PHONE, TEXT, OR EMAIL: (562) 320-2139 or caro@calwalks.org
Download the flyer: English / Spanish.
Funding for the CPBST is provided by a grant from the California Office of Traffic Safety (OTS) through the National Highway Traffic Safety Administration (NHTSA).