Register now for one of our Community Pedestrian and Bicycle Safety Training (CPBST) workshops coming up in Boyle Heights and Muscoy to identify priorities to make walking and biking safer for everyone - including seniors, students, parents, and people with disabilities. These workshops train neighborhood residents and health, transportation and safety advocates on how to improve pedestrian and bicycle safety to make California communities safer and more pleasant to walk and bike. Food and refreshments, and facilitation in Spanish will also be provided.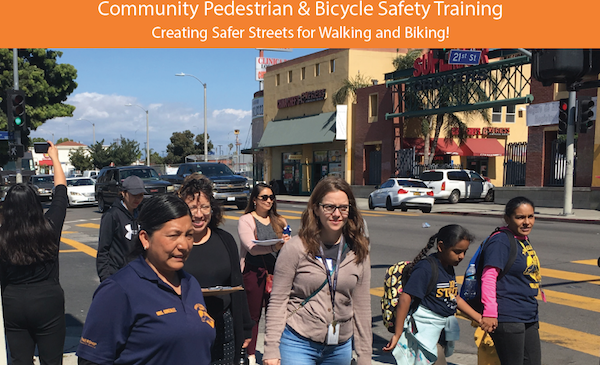 Site visit, Boyle Heights CPBST
Upcoming Trainings
Community/County
Date/Time/Location
Registration Link/Flyer
Boyle Heights
Los Angeles County
Friday, May 17, 2019: 10:30am-2:00pm
Hollenbeck Middle School Auditorium
2510 E. 6th St., Los Angeles, CA 90023

http://bit.ly/BoyleHeightsWalkBike 
Call: (818) 509-4112

Muscoy
San Bernardino County
Wednesday, May 22, 2019: 9:00am-12:30pm
Vermont Elementary School
3695 Vermont St., San Bernardino, CA 92407

http://bit.ly/MuscoyTaller
Call: (714) 742-0741
Don't see a workshop near you? Keep updated on upcoming CPBST workshops in 2019 by visiting our program page or contact Katherine Chen at kchen@berkeley.edu for more information.

Funding for the CPBST was provided by a grant from the California Office of Traffic Safety (OTS) through the National Highway Traffic Safety Administration (NHTSA).