UC Berkeley SafeTREC's Offer Grembek to present in upcoming virtual safety series about community-based traffic safety data & approaches during a pandemic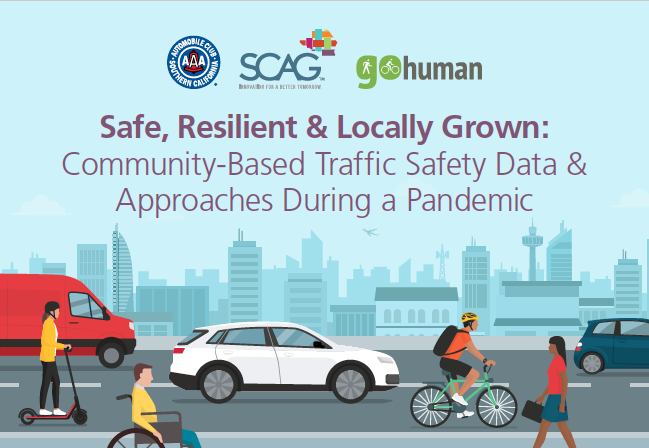 The Southern California Association of Governments and its Go Human campaign, alongside AAA of Southern California, are hosting a virtual safety series on improving traffic safety conditions while reducing COVID-19 transmission. The series will explore community-based strategies focused on innovation and resiliency. 

Registration information is below. Attendees that provide a mailing address will receive a complimentary face mask. For more information, download the flyer and visit the event webpage.
---
Exploring Pandemic-Era Data Trends and Policy Implications
Thursday, November 12
10am - 11:30am PST
This session will present important safety trends and data collected during the pandemic. Panel experts will discuss what recent data can tell us about driver behavior relative to environmental factors such as congestion, enforcement levels, temporary road treatments and more. In addition, hear about creative data collection methods employed by community-based organizations to support the need for more improvements.
Speakers:
Jake Nelson, AAA Director of Traffic Safety and Research: Traffic Safety Trends During a Pandemic
Dr. Offer Grembek, Co-Director, UC Berkeley SafeTREC: Highway Crashes During COVID19 - Lessons Learned
Dr. Mischa Young, Postdoctoral Researcher, 3 Revolutions Future Mobility Program: Travel Mode and Behavior Changes During the COVID19 Pandemic
Brian Ulaszewski, Executive Director, City Fabrick: Adapting the Mobility and Public Realm for Future Community Health in Long Beach
---
Building Partnerships & Generating Support
Thursday, November 19
10am - 11:30am, PST
This session will illustrate how collaborations between key stakeholders can help communities make inroads in reducing serious traffic safety collisions. This session will lead a discussion on creative, strategic safety efforts that community-led efforts rooted in resiliency. It will highlight roles (private, nonprofit and public) in the effort to increase traffic safety. Panelists will share lessons learned from successful programs and projects that brought together community groups, policymakers, local officials and local businesses in the pandemic environment. We will discuss how these models could be applied to other communities.
Speakers:
Arlis Reynolds, Council Member, City of Costa Mesa: Conceptualizing Safety in a Pandemic - Re-imagine 19th Street
Hilary Norton, Chair, California Transportation Commission, Executive Director, FASTLinkDTLA: Crossing Sectors - Collaboration and Partnerships to Improve Traffic Safety
Lizette Arzola, Associate Director, Central City Neighborhood Partners: Hyper-Local Engagement Tactics to Indentify Safe Routes - "Community First COVID19 - Pedestrian Safety Project"