In early November, 2017, San Francisco's Vision Zero Task Force hosted a one-day workshop to identify bold ideas and action steps for achieving the City's Vision Zero goal to eliminate traffic fatalities by 2024.
SafeTREC co-director Offer Grembek joined Vision Zero SF, city officials and agencies, community leaders, traffic safety experts, and advocates to explore what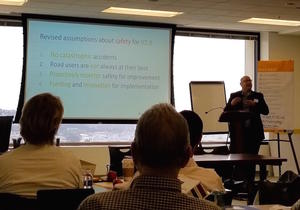 that might look like and what it would take to get there.
What does it take to move the needle on Vision Zero?
After a morning session dedicated to discussing SF Vision Zero activities, milestones, and progress to date, SafeTREC co-director Offer Grembek helped set the stage with other invited Vision Zero thought leaders for an afternoon aimed at identifying bold ideas for future initiatives. 
In his presentation, "Moving the Needle on Vision Zero," he discussed one idea for helping to advance Vision Zero: the need to revise the assumptions about safety that were used to build the current transportation network (labeled as V1.0) and use these new assumptions to develop a road network that can support VZ (labeled as V2.0). 

"The current assumptions are valid but are outdated," says Grembek. "Under the current system we are willing to accept that accidents happen, but this should be revised such that catastrophic accidents are not acceptable. Moreover, the current system expects road users to be at their best and as a result of this the existing road network cannot accommodate a lot of reasonable human errors."
Ideas like these and other workshop findings and key recommendations will be highlighted in a forthcoming Vision Zero SF summary report. 
Visit Vision Zero SF to learn more about San Francisco's road safety policy, access resources, and view upcoming events and meetings.