TIMS Update: 2019 Final and 2020-2021 Provisional SWITRS Crash Data
On March 21, 2022 the Transportation Injury Mapping System (TIMS) was updated with the final version of the 2019 Statewide Integrated Traffic Records System (SWITRS) crash data. In addition, the provisional set of 2020-2021 SWITRS crashes was also updated. Learn more here.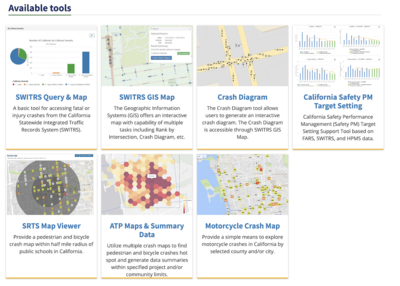 The Transportation Injury Mapping System (TIMS)
TIMS was developed by SafeTREC's GIS Program team to provide quick, easy and free access to California crash data that has been geo-coded to make it easy to map out crashes. 
The following tools are currently available on TIMS:
NEW! SWITRS Summary
Injury Crashes During COVID-19
SWITRS Query & Map
SWITRS GIS Map
California Safety PM Target Setting
Collision Diagram
SRTS Map Viewer
ATP Maps & Summary Data
Motorcycle Collision Map 
To use the site, simply create an account and log in using the password that will be instantly emailed to your inbox. Visit TIMS to learn more.