State Superintendent of Public Instruction, Tom Torlakson, with staff from the California Department of Education, California Office of Traffic Safety and SafeTREC.
On November 2, 2017, SafeTREC co-director Jill Cooper and researchers SangHyouk Oum and Liwei Fu presented SafeTREC's latest data and mapping analysis tool, the Teen Safety Heat Map at the 2017 Geographic Information Systems (GIS) Day Event in Sacramento. The event, hosted by the California Department of Education, provided participants with a diverse range of opportunities for seeing how GIS is being applied in education to address real world issues like traffic safety, public health, chronic absenteeism and physical fitness.
The Teen Safety Heat Map
According to the latest research from the National Highway Traffic Safety Administration (NHTSA), crashes are still the leading cause of teen deaths. In 2015, 99,000 teen drivers were injured in motor vehicle crashes, while 1,972 teen drivers were involved in fatal motor vehicle crashes. In California, 146 fatalities in crashes involved teen drivers.
In an effort to help visualize and analyze teen collision data, the California Office of Traffic Safety (OTS) has partnered with SafeTREC to develop the California Young Driver Heat Map (Teen Safety Heat Map). This GIS resource will enable users to identify areas where a high number or rate of teen vehicle crashes have occurred throughout the state by county (and even by zip code), as well as display locations where Driver Education and teen safety courses are taught in schools within a county.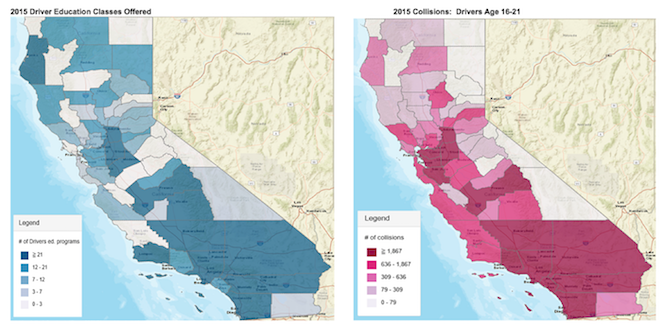 The Teen Safety Heat Map can also display where statewide funded programs were conducted during the 2016 fiscal year. These features allow users to answer questions about both location and distribution, and assist in not only visualizing how current programs are addressing the problem, but also how teen stakeholders might best plan for future program needs, especially in areas where there has been little to no programming, or where the number or rate of injury collisions is particularly high.