Save the date for the Safe Systems Summit on September 13-14, 2018!
Interested in learning more about what the Safe Systems approach is to road safety? Mark your calendars for the Safe Systems Summit: Redefining Transportation Safety, which will be held in Durham, North Carolina, from September 13-14, 2018. This event is presented by the Collaborative Sciences Center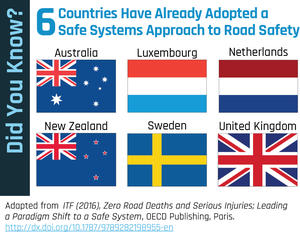 for Road Safety (CSCRS), a U.S. Department of Transportation-funded National University Transportation Center led by the University of North Carolina at Chapel Hill's Highway Safety Research Center. 
The purpose of the Safe Systems Summit is to create a learning environment for a diverse group of cross-sector experts to explore the underlying systems driving the national rise in traffic deaths, share findings from innovative new research, and develop insights into strategies how to reduce transportation injuries and fatalities by utilizing a multidisciplinary, Safe Systems approach to road safety.
Registration will open soon! Learn more about the Safe Systems Summit here and sign up to stay informed!
About the CSCRS
The Collaborative Sciences Center for Road Safety (CSCRS) unites leading university transportation research, planning, public health, data science and engineering programs with the mission to create and exchange knowledge to advance transportation safety through a multidisciplinary, Safe Systems approach.
The UC Berkeley team, led by SafeTREC Co-Director Offer Grembek, is one of four university consortium members, along with Duke University, Florida Atlantic University and University of Tennessee, Knoxville. Learn more about SafeTREC's involvement with the CSCRS.