On Thursday, April 28, 2022 the California Department of Motor Vehicles (DMV) held their R&D Bi-Weekly Brownbag seminar. The session included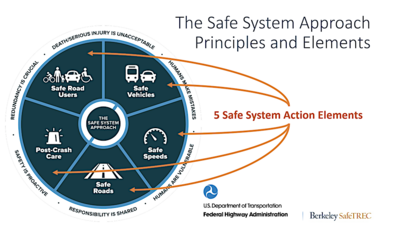 a presentation with SafeTREC Co-Director Offer Grembek, "Longitudinal Analysis Comparing Provisional and Final Crash Data in SWITRS."
In this presentation, Grembek discussed the principles and elements of the Safe System Approach, which is the new direction of California's Strategic Highway Safety Plan. The Safe System Approach aims to eliminate fatal and serious injuries for all road users through a holistic view of the roadway system. Learn more about the Safe System Approach from FHWA (PDF)
Grembek also shared some preliminary findings about the implications of using provisional SWITRS data for analyses.
Photo credit: Offer Grembek.