Early Registration for the National Travel Monitoring Exposition and Conference (NaTMEC) 2020 ends on February 17, 2020. Don't miss this opportunity to save as much as $75 on your meeting registration!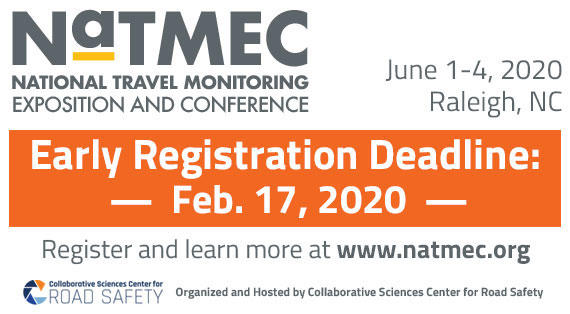 View the preliminary agenda for a listing of the wide variety of sessions offered covering NaTMEC's key topic areas. This event aims to increase the efficiency and effectiveness of multimodal traffic monitoring programs covering motorized, bicyclist, and pedestrian movements to enhance data driven decisions in areas of performance management, planning and design, asset management, safety, and program administration. 
The meeting will be held June 1-4, 2020, at the Raleigh Convention Center in Raleigh, NC. NaTMEC provides travel monitoring professionals and transportation data users from around the world opportunities to share knowledge and good practices, exchange ideas, revisit fundamental concepts, learn new processes, procedures and techniques and see the latest advancements in policy, technology and equipment.
---
NaTMEC 2020 will be presented by the Collaborative Sciences Center for Road Safety (CSCRS), a U.S. Department of Transportation National University Transportation Center promoting safety, with support from the Federal Highway Administration. UC Berkeley is proud to be a consortium member of the CSCRS. View SafeTREC's CSCRS research, education, and professional development activities.