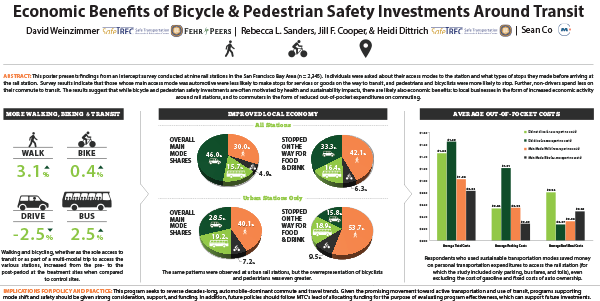 On February 23, 2015, at the Active Living Research 2015 Annual Conference(link is external)in San Diego, California, SafeTREC Co-Director Jill Cooper will present a poster session on the "Economic Benefits of Bicycle and Pedestrian Safety Investments Around Transit," based on research conducted from 2011 to 2014. The research was sponsored by the Metropolitan Transportation Commission(link is external) and Fehr & Peers Transportation Consultants(link is external).
The poster presents findings from an intercept survey conducted at nine rail stations in the San Francisco Bay Area. Individuals were asked about their access modes to the station and what types of stops they made before arriving at the rail station. Survey results indicate that those whose main access mode was automotive were less likely to make stops for services or goods on the way to transit. Pedestrians and bicyclists were more likely to stop. In addition, non-drivers spent less on their commute to transit. The results suggest that while bicycle and pedestrian safety investments are often motivated by health and sustainability impacts, there are likely also economic benefits to local businesses in the form of increased economic acidity around rail stations, and to commuters in the form of reduced out-of-pocket expenditures on commuting.
Given the promising movement toward active transportation and use of transit, implications for policy and practice include giving strong consideration, support, and funding to programs that feature mode shift and safety, rather than automobile-dominant commute and travel patterns. In addition, following the Metropolitan Transportation Commission's lead of allocating funding to evaluate program effectiveness can help support future active transportation investments.
Researchers contributing to this study were David Weinzimmer, SafeTREC and Fehr & Peers; and Rebecca L. Sanders, Heidi Dittrich, and Jill F. Cooper, SafeTREC. Additional contributors included Matthew Ridgeway and Meghan Mitman from Fehr & Peers and Sean Co from the Metropolitan Transportation Commission.