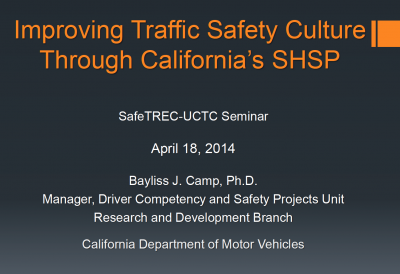 APRIL 18, 2014
NOON-1 P.M.
SAFETREC 2ND FLOOR CONFERENCE CENTER, 2614 DWIGHT WAY
PRESENTATION BY BAYLISS J. CAMP, CALIFORNIA DEPARTMENT OF MOTOR VEHICLES
Abstract: For approximately a decade, researchers in industry, academia, and government have been working to extend the idea of "safety culture" to the field of traffic injury control. This involves, among other tasks, a substantial effort at translating theory and concepts from one field to another. It also involves educating stakeholders in a new vocabulary and (potentially) a new set of approaches to one of our society's most stubborn public health problems. This presentation will introduce the audience to traffic safety culture, focusing on practical examples and potential applications. The current efforts of the state's Strategic Highway Safety Plan (SHSP) are described.
Speaker Bio: Bayliss J. Camp is a Research Manager II with the California Department of Motor Vehicles, where he supervises the Driver Competency and Safety Projects Unit. He serves also as a member of the California Strategic Highway Safety Plan (SHSP) Challenge Area 9 (Improving Safety for Older Roadway Users), the SHSP Traffic Safety Culture Task Force, the Transportation Research Board (TRB) Committee on Safe Mobility of Older Persons (ANB60), and the TRB Roadway Safety Cultures Subcommittee. His recent publications have appeared in American Journal of Sociology, Journal of Safety Research, Politics and Policy and Sociological Perspectives. He came to California DMV in 2007, after having taught sociology at Texas Christian University. He currently holds a position as lecturer in the Sociology Department at California State University, Sacramento. He received his Ph.D. (Sociology) from Harvard University in 2003.