NEW PAPER PUBLISHED BY CO-DIRECTOR OFFER GREMBEK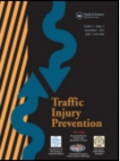 Offer Grembek co-authored a newly published paper titled, "After-Effects in Traffic Crash Victims in Brazil" in the Traffic Injury Prevention journal.

This analytical, descriptive cross-sectional study identifies the characteristics related to crash and victim, as well as the after-effects/disabilities and consequences arising from traffic crashes occurring in the city of Rio Branco.

See the full paper.