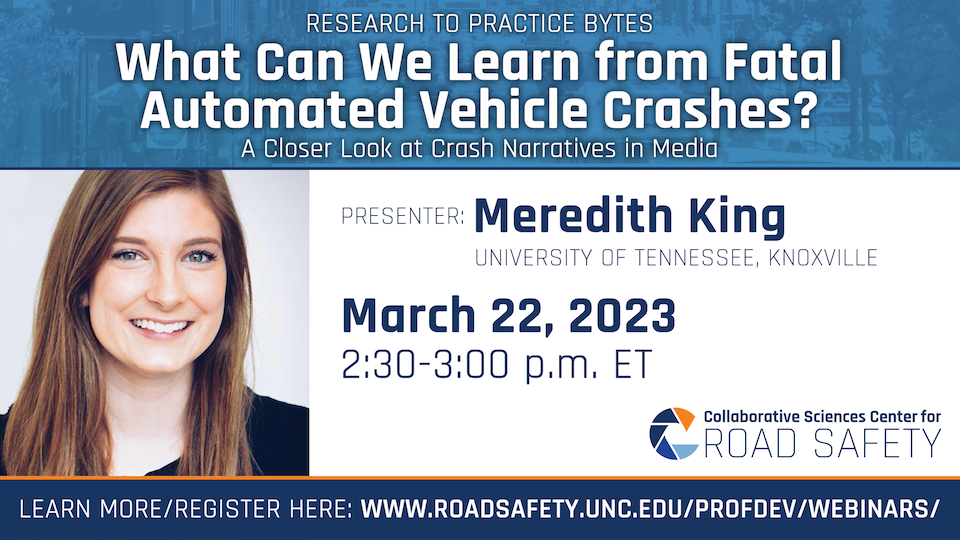 Join University of Tennessee, Knoxville Graduate Research Assistant Meredith King for the latest session in the Collaborative Sciences Center for Road Safety (CSCRS) Research to Practice Bytes Series on Wednesday, March 22 at 11:30am PT for "What Can We Learn from Fatal Automated Vehicle Crashes? A Closer Look at Narratives in Media." Text mining tools allow for a deep dive into the language used in fatal crash narratives. This session explores key crash details that emerge from analyzing a unique dataset of news articles discussing fatal collisions involving one or more automated vehicles. The media dataset also provides insights into the survivability of the driver as a function of the crash details presented. The presentation will provide insights into the importance of analyzing narratives in media that shape public opinions about automated vehicle safety. Continued monitoring and analysis of automated vehicle crashes can help to inform future research and adoption of automated vehicles. Register for the webinar.
CSCRS Research to Practice Bytes
CSCRS's Research to Practice Bytes series focuses on multidisciplinary research and practices to advance transportation safety. The series frequently features principles and practices related to Safe Systems and the role of systems science, core themes in CSCRS's initiatives.  Visit the CSCRS webinar series webpage for links to recordings and slides for past webinars in the series.
---
About the CSCRS
The Collaborative Sciences Center for Road Safety (CSCRS), is a U.S. Department of Transportation-funded National University Transportation Center led by the University of North Carolina at Chapel Hill's Highway Safety Research Center.
CSCRS is one of five national University Transportation Centers announced in November 2016. The Center unites leading university transportation research, planning, public health, data science and engineering programs with the mission to create and exchange knowledge to advance transportation safety through a multidisciplinary, Safe Systems approach.
The UC Berkeley team, led by SafeTREC Co-Director Offer Grembek, is one of five university consortium members, along with the University of North Carolina, Chapel Hill, Duke University, Florida Atlantic University and University of Tennessee, Knoxville.
Learn more about SafeTREC's involvement in the CSCRS.