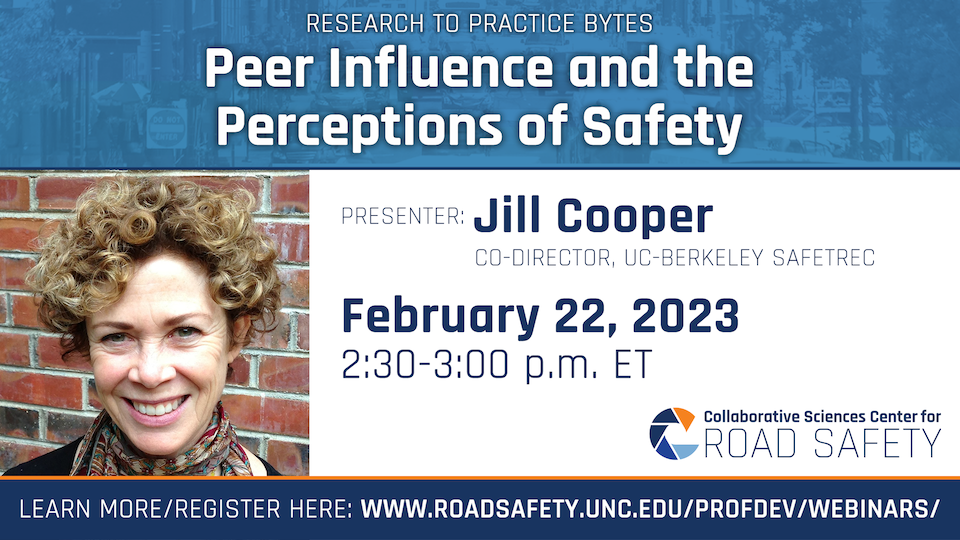 Join UC Berkeley SafeTREC Co-Director Jill Cooper for the latest session in the Collaborative Sciences Center for Road Safety (CSCRS) Research to Practice Bytes Series on Wednesday, February 22 at 11:30am PT for "Peer Influence and the Perceptions of Safety." Policy development and implementation related to traffic safety is inherently connected to the communities that elect policymakers and provide their input on proposed legislation. In past years, traffic safety research has studied how perceptions of safety relate to travel behavior and safety outcomes. In this session, Cooper will discuss a CSCRS study that focused on examining the relationship between an individual's perceptions of safety and those held by their peers using a survey that asked North Carolina residents a myriad of questions concerning transportation. It is anticipated that this study will help inform the development of more effective community engagement and policy formation. Learn more and register for the webinar.
CSCRS Research to Practice Bytes
CSCRS's Research to Practice Bytes series focuses on multidisciplinary research and practices to advance transportation safety. The series frequently features principles and practices related to Safe Systems and the role of systems science, core themes in CSCRS's initiatives.  Visit the CSCRS webinar series webpage for links to recordings and slides for past webinars in the series.
---
About the CSCRS
The Collaborative Sciences Center for Road Safety (CSCRS), is a U.S. Department of Transportation-funded National University Transportation Center led by the University of North Carolina at Chapel Hill's Highway Safety Research Center.
CSCRS is one of five national University Transportation Centers announced in November 2016. The Center unites leading university transportation research, planning, public health, data science and engineering programs with the mission to create and exchange knowledge to advance transportation safety through a multidisciplinary, Safe Systems approach.
The UC Berkeley team, led by SafeTREC Co-Director Offer Grembek, is one of five university consortium members, along with the University of North Carolina, Chapel Hill, Duke University, Florida Atlantic University and University of Tennessee, Knoxville.
Learn more about SafeTREC's involvement in the CSCRS.