CSCRS Collaborator Profile features SafeTREC's David Ragland
SafeTREC Co-Director David Ragland was featured in the latest edition of "CSCRS Crossroads", the quarterly newsletter of the Collaborative Sciences Center for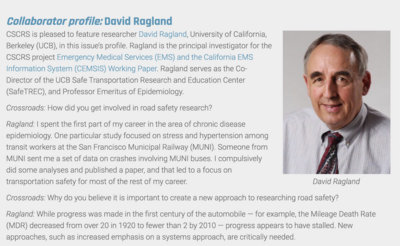 Road Safety (CSCRS). The Collaborator Profile interview discusses Ragland's involvement in road safety research, perspectives on the systems approach to road safety, how he has integrated perspectives from other fields in his work, and future directions for the field of road safety research.
Crossroads: How did you get involved in road safety research?
Ragland: I spent the first part of my career in the area of chronic disease epidemiology. One particular study focused on stress and hypertension among transit workers at the San Francisco Municipal Railway (MUNI). Someone from MUNI sent me a set of data on crashes involving MUNI buses. I compulsively did some analyses and published a paper, and that led to a focus on transportation safety for most of the rest of my career.
Crossroads: Why do you believe it is important to create a new approach to researching road safety?
Ragland: While progress was made in the first century of the automobile — for example, the Mileage Death Rate (MDR) decreased from over 20 in 1920 to fewer than 2 by 2010 — progress appears to have stalled. New approaches, such as increased emphasis on a systems approach, are critically needed.
Crossroads: What does a systems approach to road safety mean to you?
Ragland: A systems approach recognizes that a crash involves a dynamic interaction involving environment, vehicle, and road user. A critical feature of the approach as it has evolved is the concept of mitigating the role of human error to prevent a crash, while reducing the impact of kinetic energy on road users if a crash occurs.