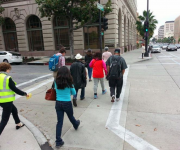 The City of Ukiah and Pasadena were identified as focus communities for Community Pedestrian Safety Trainings based on resident interest in pedestrian safety and walkability, as well as recent and planned active transportation improvements in and around the downtown core. 

These reports summarize the workshop proceedings, as well as ideas identified during the process and recommendations for pedestrian safety projects, policies and programs. 
View the Pedestrian Safety Action Plan for City of Ukiah
For a summary of outcomes from past workshops, please visit SafeTREC or California Walks.