Welcome back to the 2019 SafeTREC Traffic Safety Facts blog series, where we feature recent data on some of California's most pressing traffic safety issues! Explore our recent posts on:
In today's post, explore SafeTREC's fact sheets on alcohol-involved and drug-impaired driving. In our next post, we'll be highlighting the facts on motorcycle safety and occupant protection.
---
Get the Facts: Alcohol-Involved Driving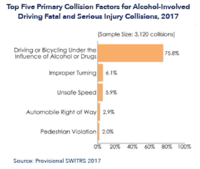 While alcohol-involved driving fatalities have fallen significantly in the last three decades, the National Highway Traffic Safety Administration (NHTSA) reports that alcohol-involved driving still comprises a large percentage of traffic injuries and fatalities. On average in 2017, one person died from an alcohol-involved driving collision every 48 minutes. There was a decrease in the numbers of alcohol-involved driving fatalities in the United States between 2016 and 2017. The figures refer to drivers, passengers, bicyclists, and pedestrians fatally killed or seriously injured in an alcohol-involved collision in California in 2017. Read the 2019 SafeTREC Traffic Safety Fact Sheet: Alcohol-Involved Driving.



---

Get the Facts: Drug-Impaired Driving
Driving under the influence of drugs is a significant threat to public safety. Various substances can impair cognition, attention, coordination, and other brain functions critical to driving safety. Unlike alcohol, the mechanism for absorption, distribution, and elimination of drugs from the body, as well as cognitive and behavioral effects differ greatly. The use of cannabis, prescription drugs, and other drugs are increasingly prominent on our roadways, where 22.2 percent of the nation's 37,133 fatalities in 2017 were related to drug-involved driving. Read the 2019 SafeTREC Traffic Safety Fact Sheet: Drug-Impaired Driving.